HR teams have a more strategic role in overall business strategy than just serving employee requests. This fact is accepted by 73% of CEOs. But, HR teams are kept busy with repetitive tasks.Despite having an HR portal, employees felt confused about getting the right information and started emailing back queries to HR teams. To push HR as a strategic part of business, and to generate better employee satisfaction, it is required to for the HR to go beyond HR portal. Here are the ways HR can surpass the above problem and become a strategic partner:
Mobilize HR to be Accessible Outside of the Office
For employees spread across different geographical locations, access to HR data might be difficult. Moreover, most employees feel more comfortable getting company services directly to their phones. This gives employees ease of access, and can feed the information during off-hours or while traveling. In this situation, confining employee services either to a desktop or a laptop wouldn't be a good HR practice.
With the gradually increasing global workforce, expense tracking and PTO management have been the biggest hardships for HR and employees. In such cases, as a part of HR automation, a mobile app can empower employees to submit, track and get reimbursed all the expense sheets on the fly. This keeps employees from filling out a lot of paperwork and reduces long waits in the expense approval process. This way mobile HR can increase work productivity of the employees too.
To understand better, we present below some of the interesting employees mobile usage trends researched by Wrike Study that necessitates the HR to consider mobile strategy as a part of the overall HR automation strategy:
43% of employees spend 1-2 hours working "on the go" each day.
28% spend 3 or more hours working outside of the office
70% say they expect to use mobile devices
Mobile devices increase productivity for 82% of people.
64% of respondents consider staying informed about work topics from anywhere the biggest benefit of their mobile devices.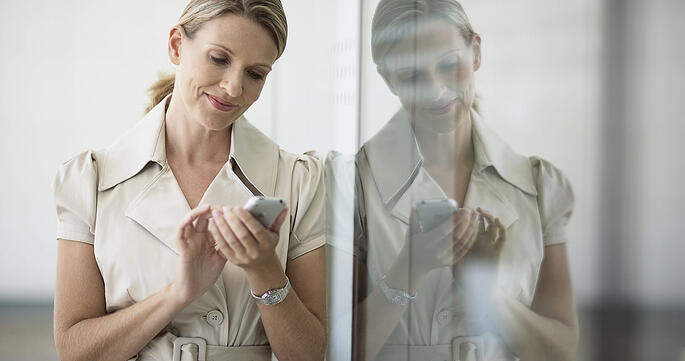 Benefits Mobile HR APP offers to HR
The following are the mobile HR benefits that enable HR teams to generate better employee experiences and build a better workplace environment:
Raise and track the requests 24/7.
Access and feed data on the fly.
Better employee-organization engagement, making the better workplace environment.
Bridge information and communication gaps.
An employee can be kept informed 24/7 through push notifications, wherein HR teams can push sensible organizational notifications instantly.
Submit and get approved expenses and PTO on the fly.
Empower employees by giving support anywhere.
HR mobile strategy improves employee experience, which in turn would bring down employee turnover costs.
AI Powered HR Chatbot: Digital Personal Assistant
Despite having an HR automation solution HR portal/mobile app, employees feel less interested or may be confused in getting precise information from a vast set of options. This again results in employees writing back to HR team or raise a ticket for help, which in turn raises the burden of HR (complexity grows with many requests) and may also lead to poor employee satisfaction. A survey by ServiceNow during the 2017 HR Tech Conference, found that 99 percent of HR professionals think it is important for employees to feel they can easily find key HR information and this is the key to employee satisfaction.
So, the solution for this would be to go with creating an Artificial Intelligence (AI) powered HR consultant chatbot application that can work 24/7. The best part of the chatbot application is that it enables employees to converse in the natural language.
The chatbots can support HR professionals in tasks like onboarding, clearing employee requests, and generating service tickets as desired by employees-thus providing space for HR teams to focus their valuable time on important strategic tasks!
Benefits Chatbots Offer to HR
While there are many benefits offered by Chatbots to the HR teams, we present some of the key benefits:
Can take the employee requests 24/7 and resolve it immediately, thereby generating better employee satisfaction
Support anywhere
Better employee engagement
Interactive onboarding
Manage and analyze workforce data in a more efficient way
Enables effective workforce management with predictive analytics
Helps HR to deliver better employee and business value
Integrating machine learning abilities to chatbots can deliver better decision-making ability to HR
The recruitment chatbots can bring down the recruitment times (by conducting pre-screening) and ensure lot of cost savings
Conduct employee surveys
Assists HR to conduct workforce analytics for each employee, to gather data about performance issues and to locate that factors halting the employee growth.
Are you willing to deliver better employee satisfaction levels and create a better work environment? Then the effective solution would be to power your HR strategy with Artificial Intelligence (chatbot) and be HR mobile strategy.
The demand for intelligent machines is growing too high that in the next coming 3 years, it is anticipated that 75% of HR teams will be engaging intelligent machines as a part of HR automation.